Dog Breeders > Germany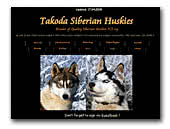 Takoda Siberian Huskies
Siberian Husky Kennel located in Germany. Our Goal are Dual Purpose Huskies based on Innisfree, Midnight Sun, NorthWapiti, Alkasiber and Anadyr Line. Look around and enjoy !!
Siberian Husky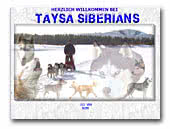 Taysa Siberians
Siberian Husky Kennel foundation dogs based on the old classic Monadnock Line. Careful breeding program. Come and visit us and meet the dogs.
Siberian Husky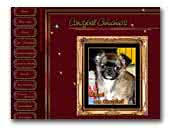 von Candybell - Chihuahua
Welcome to all Chihuahua Friends!
Chihuahuas belong to one of the wonderfull Dog-Personalities. They are happy, brave, intelligent and especially proud. This feature are important in our breedingprogram. With infinitive and passion we are breeding after the standard and under the FCI with the kennelname "Chihuahua von Candybell".

Our dogs are growing up with best care. We put on value on a good social coinage, so that the living together with them becomes from beginning for a true pleasure, mutual profit and to the joy. We achieve this precoinage, while our chihuahuas live integrative as members of the family. So our puppies congeners and also grow up with us. In our small but fine breeding value on excellent Geno-and Phänotypus - faithful to our principle after which beauty, health and being firmness show a well balanced unity.

We promote this natural balance in our dogs, among other things by a excellent food which we hold in particular with smallest-races for inalienable, as well as by a comprehensively straightened, certified veterinary care. Quality goes for us in every regard before quantity, which is why we reserve ourselves to deliver our chihuahuas only to select holders and breeders - just in those best hands which these miraculous dogs earn. We are glad very much about your interest. Furthermore a lot of joy on our pages.
Chihuahua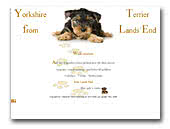 Lands´ End - Yorkshire Terrier
Die Yorkshire-Terrier-Zucht "from Lands´ End" ist eine individuell, liebevolle von uns betriebene Privatzucht in Schafstedt am Nord-Ostsee-Kanal, dem Land zwischen den Meeren in Schleswig-Holstein. Unsere Liebe zur Natur und zum gepflegten Landleben, in innerer Verbundenheit zum englischen Landleben, hat uns auf besondere Weise zu unseren Yorkshire Terriern gebracht.

Wir lernten vor einigen Jahren die schöne Gegend in England , speziell die von Yorkshire kennen und auch die von dort stammende Rasse der Yorkies. Nachdem bei uns der Entschluss gefasst war einen Hund zuzulegen, entschieden wir uns für einen Grand Basset Griffon und damit es ihm nicht langweilig wird zu einen Yorkshire Terrier als kleinen Spielgefährten. Heute nun, weil wir so begeistert und angetan von unseren kleinen Kobolden sind, umfasst unser Familienrudel Yorkshire-Junge Alfred, seine zwei Mädels Molli und Peggy  und als Rudeloberhaupt eben unsere Chili, der französiche Landhund, das passende Gegenstück zu unseren Minimäusen - gemütlich, dickköpfig und souverän.

Unsere Yorkshire Terrier, mit ihrem außerordentlich fröhlichen und sympathischen Wesen, begeistern uns jeden Tag auf ` s Neue und erfüllen unser Haus mit Humor und Wärme. Und wenn kleine Hunde-Babies im Hause sind, ist dies einfach sooo schön, sie am Anfang ihres Lebens begleiten zu dürfen, egal wie anstrengend zugleich. Wenn Sie neugierig geworden sind, und Sie gerne mehr über unsere Zucht, die Rassen Yorkshire-Terrier und Grand-Basset-Griffon, biologische Ernährung und Aufzucht von Welpen und über die Pflege der jeweiligen Rassen erfahren möchten, laden wir Sie herzlich ein, mit uns Kontakt aufzunehmen.

Wir freuen uns garaniert!
Ihre Familie Heitz aus Schleswig-Holstein
Yorkshire Terrier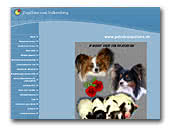 vom Volkersberg Papillons
Papillons are wonderful. I love this intelligent and lovely ellegant kind of dogs. We breed under FCI-VDH and all our breedingdogs are free of PL and PRA.
Papillon
« Prev 1 2 3 4 5 6 7 8 9 10 11 12 13 14 15 16 17 18 19 20 21 22 23 24 25 26 27 28 29 30 31 32 33 34 35 36 37 38 39 40 41 42 43 44 45 46 47 48 49 50 51 52 53 54 55 56 57 58 59 60 61 62 63 64 65 66 67 68 69 70 71 72 73 74 75 76 77 78 79 80 81 82 83 84 85 86 87 88 89 90 91 92 93 94 95 Next »