Dog Breeders > Germany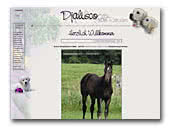 DJALISCO Golden Retrievers
Kennel of english type Golden Retrievers. Home of WW06 ASHBURY VELVET KISS. Sometimes quality puppies available for loving homes.
Golden Retriever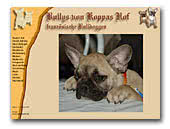 Französische Bulldoggen von Koppas Hof
Wir züchten erfolgreich die Französische Bulldogge undgeben zeitweise gesunde, sozialisierte, typvolle, muskulöseund freiatmende Buyys, hauptsächlich in den Farben fawn und redfawn ab.
French Bulldog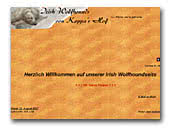 Irish Wolfhound von Koppas Hof
Wir züchten seit Jahren erfolgreich den Irish Wolfhound und geben zeitweise gesunde, sozialisierte und wesensfeste Welpen ab.
Irish Wolfhound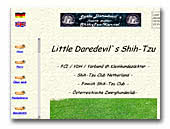 Little Daredevil's Shih-Tzu
Small Breed in VDH / FCI since 1997, my Kennel are based on english and skandinavian lineages such as Greenmoss, Keytor and Santosha. That is why I think it important that the dogs are pure bred and kept that way!

My Shih-Tzus just only a hobby for me, that is reason why only one litter in year ... If you want more information about me and my dogs please kontact me!
Shih-Tzu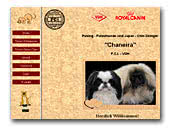 Chaneira VDH / FCI
Japan Chin und Pekingese Kennel
Kennel CHANEIRA VDH/FCI Hobby-Zucht Japan Chin und Pekingese.
Japan Chin
Pekingese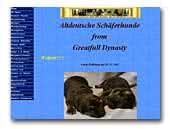 from Greatfull Dynasty
Altdeutsche Schäferhunde
We breed Old German shepherd dogs like it to be should, largely strongly, wesensfest, with straight back. Our dogs do not live grow up in house and garden, live with us around us, know a kennel.

Wir züchten Altdeutsche Schäferhunde wie sie sein sollten, gross kräftig , wesensfest , mit geradem Rücken. Unsere Hunde leben wachsen in Haus und garten auf, leben mit uns um uns, kennen keinen Zwinger.
Altdeutsche Schäferhunde / Old German Shepherd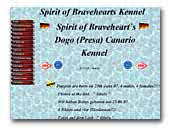 Spirit of Braveheart's Dogo Canario Kennel
Wir haben typvolle Dogo Canario Welpen abzugeben. Farbe: fawn und rot. Alle haben eine gute schwarze Maske. Die Eltern sind Importe - spanische Linien mit vielen Champions in der Ahnentafel. Die Welpen haben VDH/FCI Papiere.

We have puppies for sale - color fawn and red. Parents are import dogs - spanish lines with a lot of champions in their pedigree. Puppies have FCI papers!!!
Dogo Canario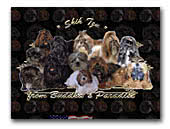 Shih Tzu from Buddha's Paradise
We breed Shih Tzu in exotic and rare colors like chocolate, orange liver, mahogany red and so on. We are a in home Breeder not a Kennel. Our Dogs and Puppies live with us in the House with a pay Yard.
Shih Tzu
« Prev 1 2 3 4 5 6 7 8 9 10 11 12 13 14 15 16 17 18 19 20 21 22 23 24 25 26 27 28 29 30 31 32 33 34 35 36 37 38 39 40 41 42 43 44 45 46 47 48 49 50 51 52 53 54 55 56 57 58 59 60 61 62 63 64 65 66 67 68 69 70 71 72 73 74 75 76 77 78 79 80 81 82 83 84 85 86 87 88 89 90 91 92 93 94 95 Next »