Dog Breeders > Hungary

La Scale kennel
We are a small kennel in Hungary, but we have 4 beauty show cockers, from Hungarian, Austrian and England.

Our dogs have Champion titles. A lot. :) And 2 have working test 1. and 2. place! I have a sable dog who have 5 champions and 2 BIS. And my best female have Inter champion, and Inter Show Champion titles. They have PRA, FN and HD results. My favorite color is the sable I would like improve this color all over the Word. I'm breeding zobel / sable english cocker spaniels, and I hopw one time the judges will love this beauty colour!!!

Best Regards,
Laura Szlávy-Kovács
English Cocker Spaniel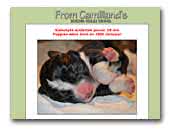 From Camilland's Border Collies
Our aim is breeding healthy border collies with great character, excellent herding instinct and appearance. We do several sports with our dogs: herding, obedience, dog-dancing and frisbee.

Our female border collie, Milly is Interchampion, Multichampion, Hungarian Herding and Obedience Winner. Milly's first litter will be born in 2010 Jaunary from IntCh.Csovanyospataki Elixir.
Border Collie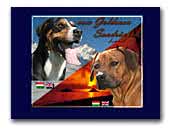 Kennel vom Goldenen Sandrücken
Greater Swiss Mountain Dog and Rhodesian Ridgeback kennel in Hungary. Information about the breed, pictures, results, puppies, etc.
Welcome to our website!
Great Swiss Mountain Dog
Rhodesian Ridgeback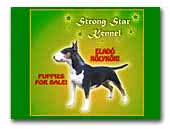 Strong Star Kennel - Bull Terrier
High quality limited puppies are available from healthy, good tempered, multi champion parents. Among ancestors are English Champion, World Winner, Continent Winner, Winner of the C.E.T.S. Trophy dogs.

An unrepeatbale mating, we are looking for new loving owners that know and understand the breed. If you are interested in our bullies, please visit our website!
Bull Terrier
« Prev 1 2 3 4 5 6 7 8 9 10 11 12 13 14 15 16 17 18 19 20 21 22 23 24 25 26 27 28 29 30 31 32 33 34 35 36 37 38 39 40 41 42 43 44 45 46 47 48 49 50 51 52 53 54 55 56 57 58 59 60 61 62 63 64 65 66 67 68 69 Next »