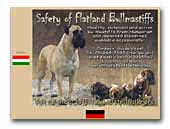 Safety of Flatland Bullmastiffs
We wish to transmit and to show what the bullmastiff mean to us. They are healthy, balanced, determined dogs, who love the family and of course more and more comparable to breed standard carriage.

We also plan to involve american and english bloodlines into our breeding program, since we favour bullmastiffs to be good working dogs too.
Bullmastiff