Dog Breeders > United Kingdom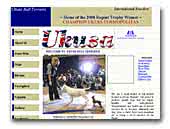 Ukusa Bull Terriers
We are a small kennel of bull terriers located in Essex, England. Our goal is to produce quality dogs that are happy, healthy, and well-adjusted. Temperament and health are of utmost concern to us because ultimately any dog, even a show dog's most important job is being a loved member of the family.
Bull Terrier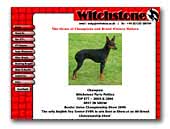 WITCHSTONE English Toy Terriers
The UKs Top English Toy Terrier (black and tan) kennel.
English Toy Terrier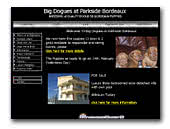 BigDogues at Parkside Bordeaux
We are a small hobbyist breeder situated alongside a beautiful Edwardian Park in the Heart of the Black Country. We are members of the Kennel Club and specialize in producing pedigree Dogue de Bordeaux puppies from quality family reared stock where quality counts for more than quantity, Puppies are bred from only the finest bloodlines for temperament and behaviour, you can rest assured that your new pet will fit in perfectly into your homely environment and provide you with years of pleasure and companionship.

Check our puppies for sale and our planned litter pages for the latest news. We are less than five minutes from junctions 9 & 10 on the M6 motorway in the midlands and less than three miles from the city of Wolverhampton.
Dogue De Bordeaux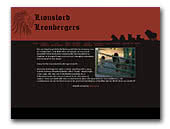 Lionslord Leonbergers
We are a show kennels from England, and occasional breeder, we have had success over the years including best in show at Leonberg, European winners, and international FCI best in shows we have 11 leonbergers a german shepherd dog and a doberman.

Our passion and love is the Leonberger and we are active members of the UK club.
Leonberger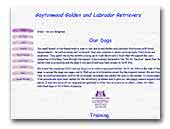 Gaytonwood Golden Retrievers
A small kennel which breeds goldens which have the ability to compete in any sphere or just be a wonderful companion.
Golden Retriever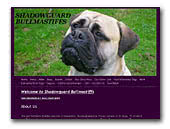 Shadowguard Bullmastiffs
(NEE BRAMARLEY BULLMASTIFFS)
Welcome to Shadowguard Bullmastiffs
NEE BRAMARLEY BULLMASTIFFS

About Us
We are Rachel & Bradley and live in Wavendon, Buckinghamshire. Proud owners of 20 dogs. 15 of which are Bullmastiffs. We also have a rescue Neapolitan Mastiff, a rescue Presa Canario, a rescue Dogue de Bordeaux, British Bulldog and a Pug.

Bradley (formerly of the affix Bramarley) has owned Bullmastiffs for 25 years and has been breeding and showing for 15 years.

We share our passion for the dogs and both enjoy showing. We will occasionally breed when we want something for the ring ourselves. We aim to breed dogs with superb temperements, Sound movement, and as close to the breed standard as possible.

We also own and run a Canine Hydrotherapy Pool. Link can be found above.
We hope you enjoy browsing our site
Rachel & Bradley
Bullmastiff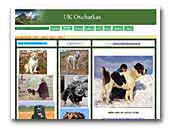 ukovcharkas.com
The Alabai, the Tohmet, the Sage Koochee ... the sredniaziatskaya ovcharka ... the Central Asian Shepherd Dog, all describe a breed group with a recorded history spanning 4000 years. They met and were admired by Alexander the Great on his conquests of Persia, and greeted Julius Caesar 500 years after that.

They are the legendary dogs that guarded the caravans traversing the Silk Road to China. They are creatures of myth and reality blended together over the eons - massive, powerful guardians devoted to their charges and fearless in the face of danger.
Central Asia Shepherd Dog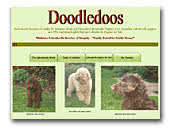 Doodledoos - Miniature English
and Pure Australian Labradoodles
Doodledoos - Breeders of Miniature English and Pure Australian Labradoodles. Breeding outstanding quality, multi-health tested puppies with sound temperaments and outgoing personalities is our aim at Doodledoos. Our four Labradoodles who live with us at home and enjoy family life, are outgoing and sociable and are fine examples of their breed.

We have a wool coated miniature pure Australian Multi Gen Labradoodle, a spiral coated chocolate ASD (Australian Service Dog) and two English F1 Miniatures.
Labradoodle
« Prev 1 2 3 4 5 6 7 8 9 10 11 12 13 14 15 16 17 18 19 20 21 22 23 24 25 26 27 28 29 30 31 32 33 34 35 36 37 38 39 40 41 42 43 44 45 46 47 48 49 50 51 52 53 54 55 56 57 58 59 60 61 62 63 64 65 66 67 68 69 70 71 72 73 Next »