Old Tyme Bulldog / Olde Tyme Bulldogge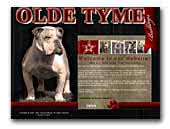 oldetymebulldogs.co.uk
We are a small kennels based in heart of England in Worcestershire.

Our passion in the bulldog breed is to breed a healthier, fitter bulldog which you see in today's world. More than 20 years ago a gentleman called Ken Mollet started a breeding program to create a dog as it excisted in Victorian times.

Ourselves have been following the progress of theses dogs we have had a lot of help and guideance from Ken's brother Derik Mollet who begin the breed with the late Ken Mollet.

What started as a hobby has now become my strong passion to breed these bulldogs.
Old Tyme Bulldog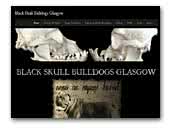 Black Skull Bulldogs
Black Skull Bulldogs are aiming to find the perfect Olde Tyme Bulldog with great muscular strength, stability, athleticism and health . So with our dogs you will not be disappointed as we have some of the best bloodlines in the UK.