Sabueso Espańol / Spanish Hound
Chien courant espagnol / Spanischer Laufhund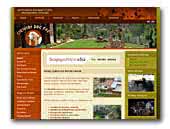 SIRIVIDI DOG FARM
Breeder of hunting dogs - show dogs, Bruno Jura,Spanish hound, Beagle, Seguccio, German Pointer, Ariegois, Porcelaine.
Bruno Jura Hound
Beagle
Italian Hound
German Shorthaired Pointer
Ariege Pointing Dog
Porcelaine

Larnaca Kennel Sabueso Espanol
Sabueso Espanol breeding dogs FCI 204. Sabueso Espanol tracks from sunrise to sunset. It can be a family dog.