Shikoku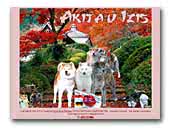 Akita u Izis FCI
Akita Inu & Shikoku Kennel
I have japan akita since 1997 (from Japan, Spain, England, Czech Republic) and japan shikoku since 2006 (only in Poland).

All my dogs are free from displasia and free from genetics eyes diseases. Puppies from my kennel live in UK, USA, Italy, Puerto Rico, Germany, Belgium, Denmark, Osterreich, Latvia and France.
Akita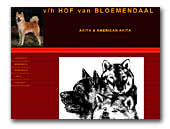 v/h Hof van Bloemendaal
Very selective breeder's of american and japanese akita's. We have a selection of very famous dog's in our kennel for breeding program's. We are showing our dog's succesfull all over Europe. From time to time we will breed a litter sa we do succesfuly for over 25 year's now.
Akita Inu
American Akita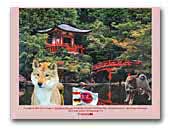 Akita u Izis FCI - Akita & Shikoku Kennel
We have japan shikoku since 4 years. Both our female are free from displasia (HD: A, ED: 0, patella OK) and free from genetic eyes diseases (with certyficat). We take reservation for puppies just now!

We have japan akitas since 15 years. We just waiting for blue-brindle puppies.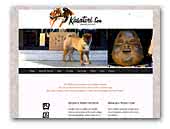 Go Kasatori Sou
Go Kasatori Sou is a small Shikoku Ken kennel in the Dutch village Sint-Michielsgestel, which arose out of passion for the Shikoku breed. Our goal is to breed healthy and beautiful Shikoku ken in a home environment.



Hayato Kumi - Shiba, Shikoku
Shiba Inu, selection and conservation

Site dedicated to our Shibas and Shikokus and this great breeds, and about our selection and conservation work since year 2001, to improving the Shiba maintaining the best approach to FCI Standard.
Shiba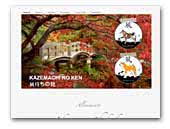 Kazemachi no Ken
Akita Inu and Shikoku Ken's kennel reconized by FCI. Our akita are Italian Champion and we are the first Shikoku kennel in italy with Japan Import.
Akita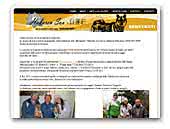 Hakuren Sou - Shikoku Kennel
Hakuren Sou is shikoku kennel in North of Italy. We are introducing new imports from Japan for improve our dog's quality.

Hakuren Sou - allevamento per la razza Shikoku situato nel Nord Italia. Introdurremo nuove importazioni dal Giappone per ottenere ottimi esemplari sia a livello morfologico che di salute.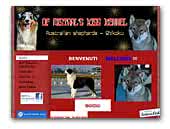 Of Mistral's Kiss Kennel
Small kennel near Florence, Italy. We breed shikoku and also australian shepherd. We really love this 2 breeds, really different from each one, but that can manage to live together like an unique pack!

We breed with love and passion, every of our dog is first of all a member of our family. Our first litter of shikoku ken is born this beginning of december 2014. We are really happy about this match!
Australian Shepherd