Siberian Husky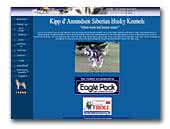 Kipp d'Amundsen Siberian Husky Kennels
Let us introduce you to our kennels and our beloved siberian huskies and one totaly spoiled malamute. Our main philosophy is keeping high working ability in the breed together with good temperament, outstanding looks and sound health. We strongly believe in the original type of working beautiful siberian.

On our website you can find not only information about our dogs and activities, but also from the world of mushing, breeding, showing and living with this beautiful, charming and friendly breed of sled dog.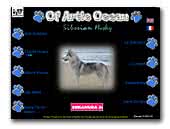 Siberian Husky Of Artic Ocean
French siberian husky breeder for show and/or pet. Excellents origins. Puppies avaible ...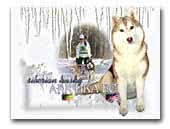 Arktika FCI - Siberian Husky
Siberian Husky Arktika FCI - Sibiro Haskis.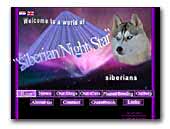 Siberian husky kennel
We are a small siberian husky kennel in Croatia, we have dogs for shows, sports and for pets.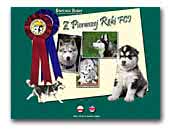 Z Pierwszej Ręki FCI - Siberian Husky
Siberian Husky Z Pierwszej Ręki FCI kennel from Poland!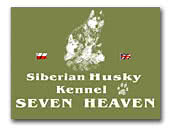 Seven Heaven - Siberian Husky Kennel
Our adventure with siberian husky began in 2000, when we bought black and white, blue-eyed Sakra. We didn't think about shows and breeding then. Not until two years we got another dog - Allegria of Wolf Point, with whom we created our kennel. In 2004 our dreamed-of dog Kivalina's The Black Knight - Misha, providing legendary Innisfree line, flew to us from the USA.

In meantime, we've become interested in sled dog racing. We try to combine beauty of those wonderful dogs with their enthusiasm and will to work. We train regularly and take part in sled dog races. We invite you to take a look at our website, where you may find lots of information about our dogs, breeding plans, races and shows.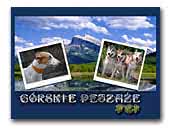 Górskie Pejzaże FCI
Hodowla Górskie Pejzaże FCI zaprasza na swoją stronę.
Greyhound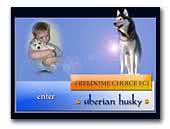 Freedome Choice FCI - siberian husky
Strona hodowli psów rasy siberian husky Freedome Choice FCI. Zapraszamy!