Dog Breeders > Italy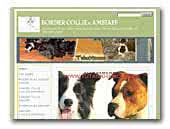 della Maschera di Tutankhamon - Border Collie and American Staffordshire Terrier
Laiatici Simila breeder, handler and trainer of Border Collie and AmStaffs for show, obedience, sports, pet-therapy, companion. Puppy programms for sensitive, developmend and balance.
Border Collie
American Staffordshire Terrier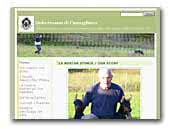 Camugliano Dobermann Kennel
Mattolini Rolando, breeder, trainer and handler of the wonderful breed: the Dobermann, from 30 years. Show and working lines. Exellent dogs for family, sport, police and militar.
Dobermann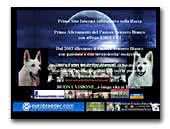 cortedelfinibianchi.com
The 1° Italian Site on the White Swiss Shepherd Dog

Realized in 2003 with a large collection of informations in Italian language on the origins, on the stages for the FCI-recognition, on the morphological and personality feature dictate from Standard 347 + database and photos of our subjets. We are an Italian family breeder that breed the WSSD in professional way from 2003.
White Swiss Shepherd Dog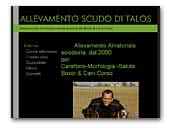 Allevamento SCUDO DI TALOS
Allevamento amatoriale che selezione da anni Boxer,Cani Corso e Chinese crested dog attingendo dalle migliori linee di sangue Europee, utilizzando solo soggetti sani (esenti da malattie ereditarie), equilibrati (soggetti utilizzati come cani da compagnia,pet therapy, utilità e difesa, soccorso) e morfologicamente vicini al tipo ideale di Standard F.C.I.

Nei nostri pedigree troverete numerosi campioni di bellezza sia Europei che Mondiali. I nostri cani hanno vinto numerose competizioni a livello internazionale e sono utilizzati in progetti di pet therapy. Disponibili cuccioli d' alta genealogia solo con pedigree,vaccinazioni,sverminazioni ,garanzia scritta. Non Vendiamo A Rivenditorie Non Spediamo Cuccioli ... Amiamo conoscere le nuove famiglie dei nostri cuccioli.

Offriamo anche servizio di Addestramento ed Educazione
Visite Gradite Su Appuntamento
German Boxer
Cane Corso Italiano
Chinese Crested Dog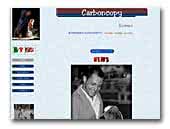 CARBONCOPY Kennel
We are a small kennel in Italy, we breed Gordon setter and Bassethound from meny year, with good results in showing and hunting. We breed a litter per year and our puppies are well socialized with a good character and healthy when they leave us for a new family.
Basset Hound
Gordon Setter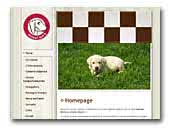 Animal Learn
allevamento Labrador Retriever
Animal Learn,è un allevamento di Labrador Retriever e Cocker spaniel inglese,ottimi soggetti, garantiti geneticamente e caratterialmente. Dottoressa Giusy Mazzalupi,specialista in Comportamento animale.
Labrador Retriever
English Cocker Spaniel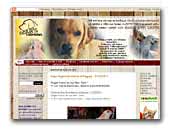 Celia's Labradors
Labrador Retriever Kennel
Small Breeder of Labrador Retriever, yellow and black few litters a year. Dogs officially checked for hereditary diseases.
Labrador Retriever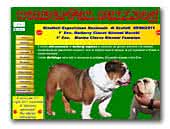 Wonderful Bulldog
ll nostro allevamento di bulldog inglese è composto da giovani elementi che vantano discendenze da grandissimi campioni, solo le migliori linee di sangue, le più importanti e titolate a livello mondiale.
English Bulldog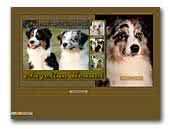 ANGELINA Kennel
Selective Australian Shepherd breeding in Italy. Photos, information and pedigrees about our beloved Aussies.
Australian Shepherd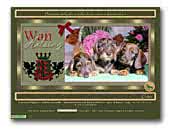 WANHELSING
Selective Dachshund breeding in Italy, wire haired miniature and kaninchen. Photos, information and bloodlines about our beloved Dachshunds.
Dachshund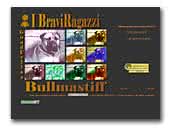 I Bravi Ragazzi
Selective breeding of Bullmastiff in Italy. Photos, pedigrees and information about our beloved Bullmastiffs.
Bullmastiff
« Prev 1 2 3 4 5 6 7 8 9 10 11 12 13 14 15 16 17 18 19 20 21 22 23 24 25 26 27 28 29 30 31 32 33 34 35 36 37 38 39 40 41 42 43 44 45 46 47 48 Next »