Bichon Havanais / Havanese / Havaneser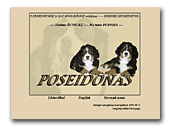 Kennel TAI POSEIDONAS (FCI)
Berner Sennenhund and Bichon Havanais kennel TAI POSEIDONAS (FCI). All information about breeds, puppies, stud dogs, photos, consultations ...
Bernese Mountain Dog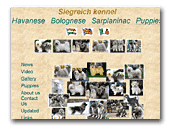 Siegreich kennel
Information and photos about Bichon Havanese, Bolognese, Sarplaninac breeds and our breeding.
Bolognese
Sarplaninac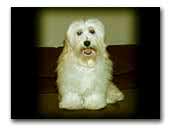 Long Haired Bears (FCI)
Bichon Havanese kennel.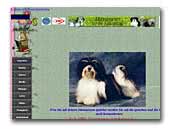 Havaneser vom Salzetal
All has startet 1991, we breed Havanese sussesfull.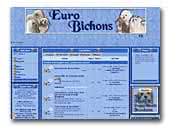 Eurobichons
Worlds Only all Bichons Breeds global forum, the best place for up to date veterinary health advice, training, grooming, pet ownership, laws in Uk, USA, Ireland, Import regulations, Fun and games, Rescue information and Tricks doggy modelling and lots more for owners of Bichon Frise, Havanese, Bolognese, Lowchen, Maltese and Coton Du Tulear. Register today to make this site the best in the world for both the doggy owner and his faithful friend.
Bichons Frise
Bolognese
Lowchen
Maltese
Coton de Tulear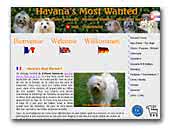 Havana's Most Wanted
We are a small, familial  and selective breeder who takes pride in producing top quality Havanese. We are located in Sion, in the middle of the swiss Alps. Our Havanese are being bred under the registered kennel name Havana's Most Wanted. All our dogs come from Champion backgrounds and live with our family, in our house, in the middle of our children, and get a lot of individual love and attention.

The puppies are raised in our home, and therefore have human contact all throughout the day. The parent dogs deserve as much love and respect as their puppies will receive in their new homes, so they are not left in kennels or cages to raise their pups.

All ours dogs are FCI/SCS registered, micro-chipped, patella and health checked. Our breeding efforts, while limited, focus on improving the Havanese breed and working toward the FCI standard by paying close attention to health, structure, type, and temperament. We breed beautiful Havanese puppies in various colors – creams, blacks and sable - suitable for shows, agility or family companion.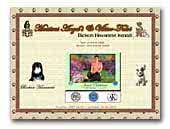 Massivus Angel's Bichon Havanese kennel
Bichon Havanese Master Breed, Best of Breed 2006! All information from my dogs, puppies, show result, on my page ...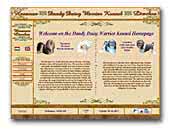 Dandy Daisy Warrior Kennel
Bichon Havanese and Löwchen Breeds. All information from my dogs, males, females, puppies, show result, standards, chocolate havanese male ...
Löwchen